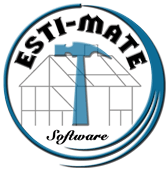 Esti-Mate

software is a simple user-friendly program for residential construction building professionals who donít have time to learn new procedures or complicated hardware. Designed by and for pro oriented LBM dealers, estimators, homebuilders, home improvement and remodeling contractors.

FREE PROGRAM DEMO DOWNLOAD
AND QUICKSTART GUIDE

Esti-Mate automatically converts takeoff dimensions from blueprints to an itemized list of waste factored delivery order quantities. The program does the most time consuming and normally not exactly error free part of handwritten material takeoffs. Lists all lumber and building material items that require material estimating formulas, math calculations, math conversions, and adding waste factors. Windows PC program with pop up menu's for fast point and click selection of building material types and sizes. Minimal amount of information required from plans for entry to program screen fields.

In Esti-Mate you are able to printout a worksheet of dimensions required for the house type you are working with, and when completed enter these takeoff dimensions to Esti-Mate program screen fields by using your keyboard. We found the best available measurement takeoff software and hardware, and configured our program to be interface setup ready for use with these precision products. They allow the end user to navigate through program screens and enter the takeoff dimensions directly from your house plan blueprints to the program screen fields. Software works on PC compatible computers with Windows ģ 3.1 or greater, allowing flexibility for use at your office, home, or on laptop computers.

With Esti-Mate complex stick built roofs require only two length entries per easily managed roof section. BUY NOW, and start saving valuable time on the tedious, complex, and time consuming material estimate/measurement takeoff process.